Runaway to Sydney during the weekend.
Eat, Fun, Shop.

DAY ONE
Lunch at Yumei Japaneese Restaurant, Capitol Sqaure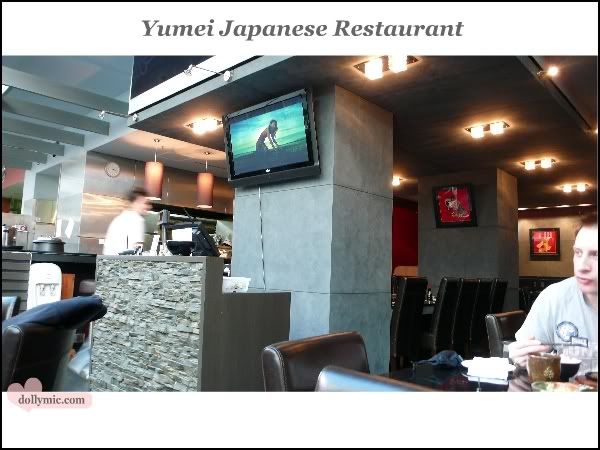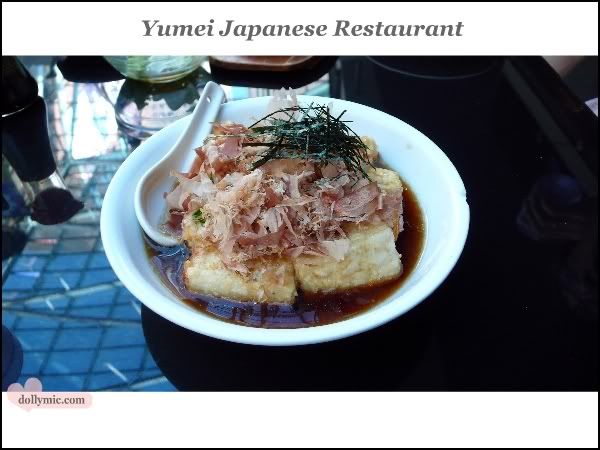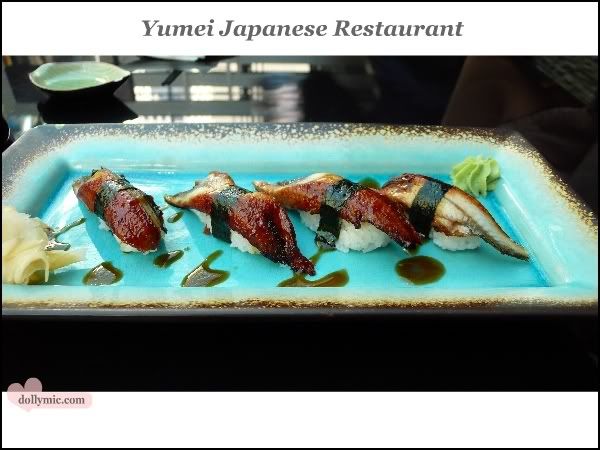 We shared the age dashi tofu, eel sushi & chicken teriyaki.

Yumei Japanese Restaurant
Capitol Square
shop: G09 Atrium Street Level
Phone: 02 9212 6665
A great setup tank for turtles.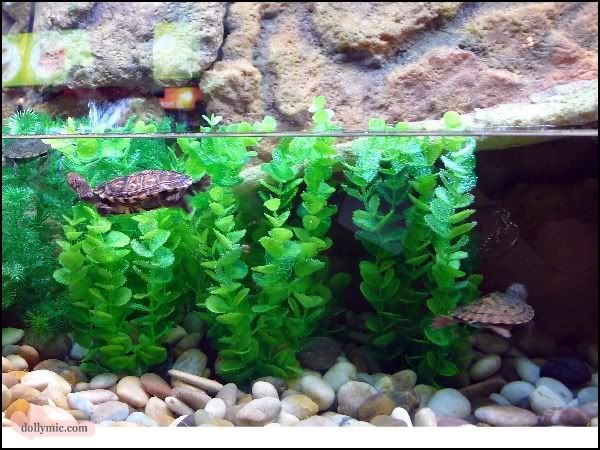 Dog grooming competition final.
Guess who's the winner?
Best in Show: wire hair fox terrier

Star effects from the Couture houses are now seen in the dog fashion!!!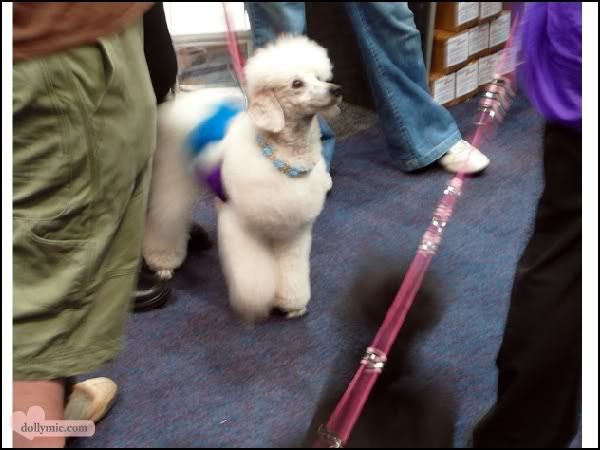 Kungfu Panda... Dog!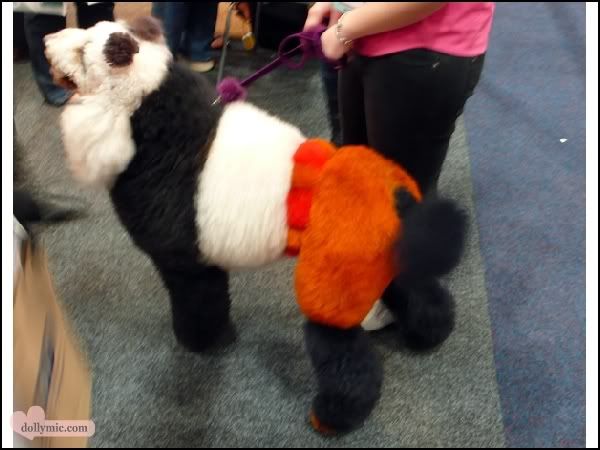 Toy poodle is definetely the most popular dog in the grooming world.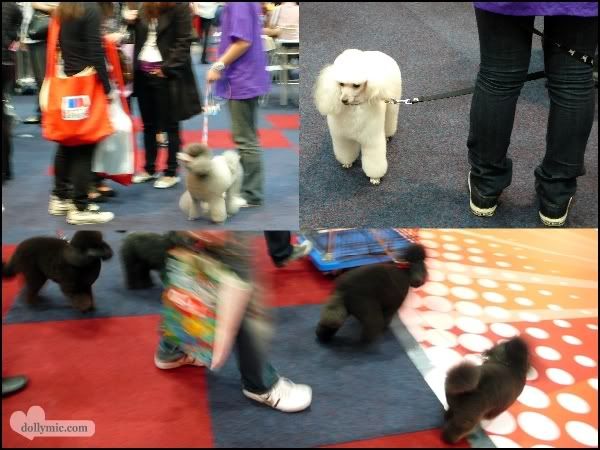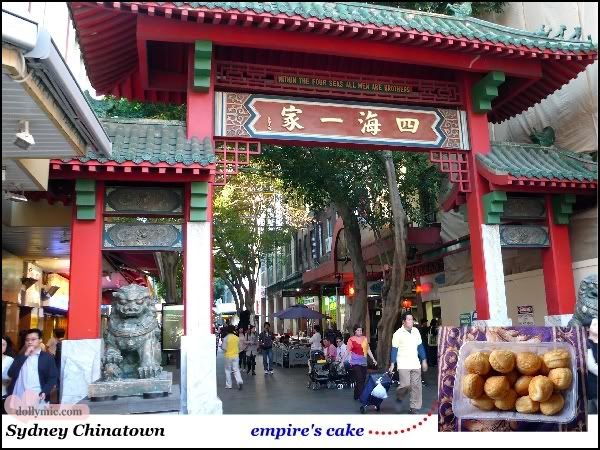 Empire's cake from Chinatown.
yum...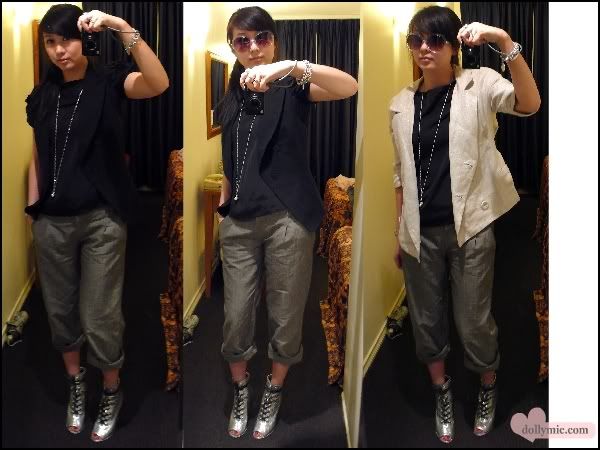 on me...
Veronica Maine puff sleeves
Witchery waistcoat
Sportsgirls olive pants
Decjuba metallic off white jacket
Chanel Silver Peeptoe Boots
Karen Walker money bag nacklace
Oroton Sunglasses
Tiffany & co. bracelets
Chanel metallic black flap
p.s. the sportsgirls pants is a bargain buy for $20 on sale. I picked it up the day before the trip. I rolled up the ends to make it a cropped pants. It looks great.

The Rocks outside Aria Restaurant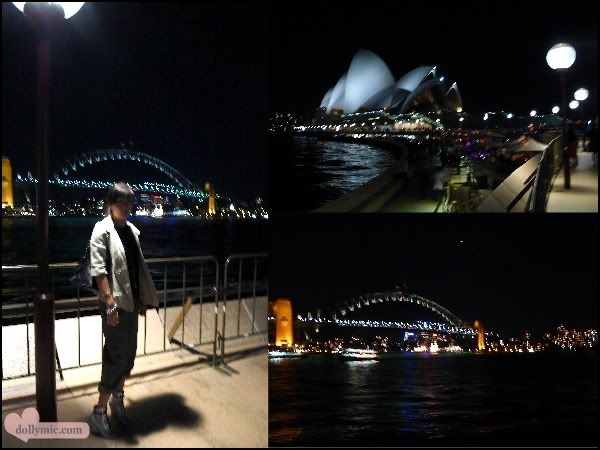 Sydney Morning Herald Good Food Guide Awards 2009
Two Hats
ARIA Restaurant
1 Macquarie Street, East Circular Quay, Sydney 2000
Tel:02 9252 2555
ARIA Restaurant is situated on the very edge of Sydney Harbour . It is owned and operated by Matthew Moran and Peter Sullivan. ARIA provides a dining experience that encapsulates Sydney lifestyle, offering panoramic views of Sydney Harbour , the freshest Australian produce in an innovative and contemporary menu, an extensive award -winning wine list with seamless, friendly and highly efficient service.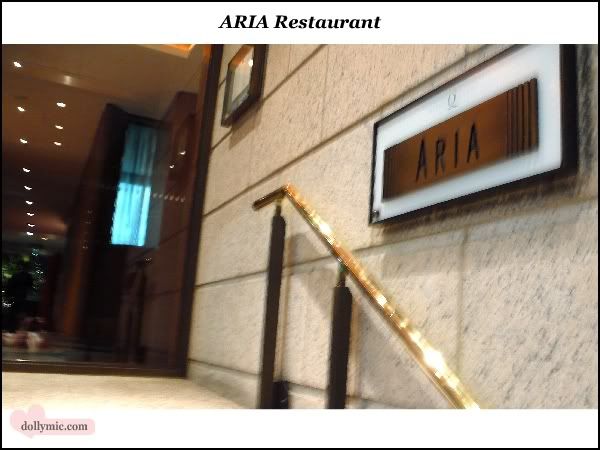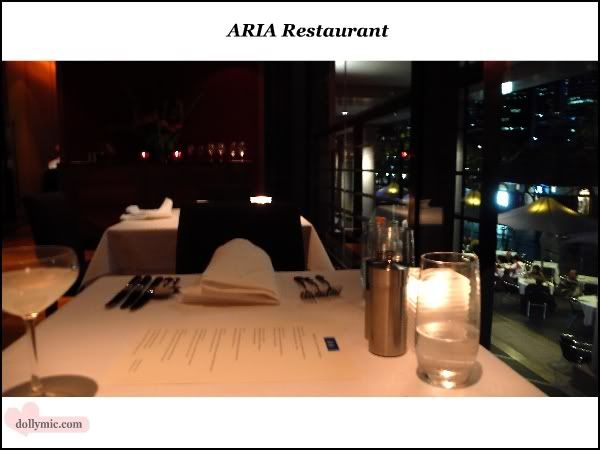 Spring Tasting Menu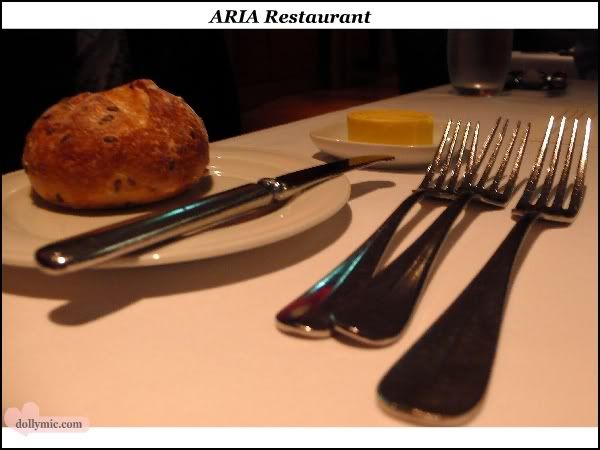 Yellow Tuna
with carpaccio of octopus, avocado, green shallot and basil puree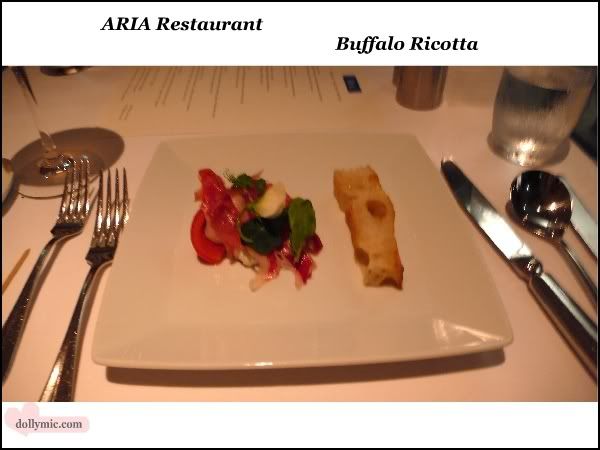 Buffalo Ricotta
Salad of baby leaves, jamon, tomatoes and toasted focaccia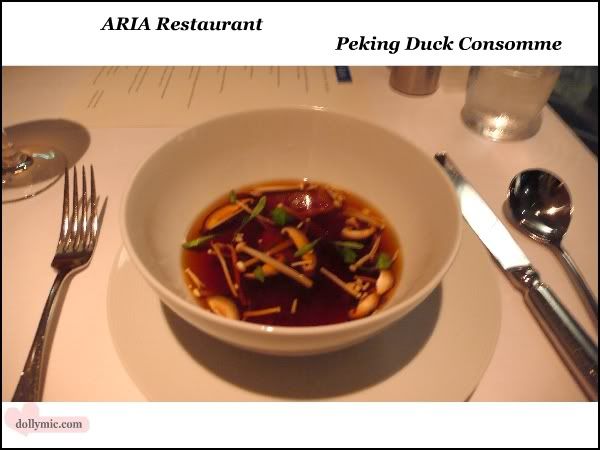 Peking Duck Consomme
with dumplings, shaved abalone and mushrooms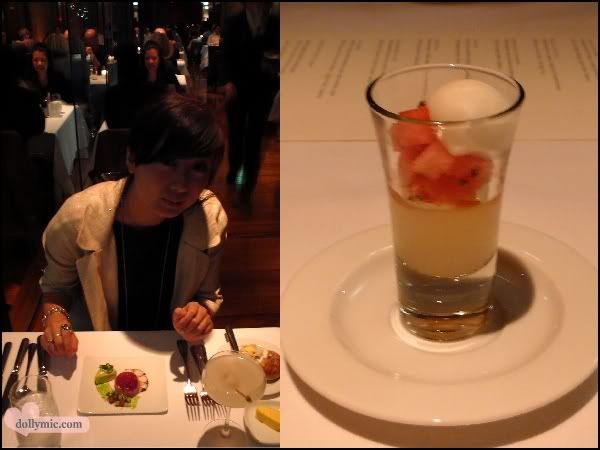 Sobert


Scallop
sweet corn, cauliflower beignet and a carper and sultana dressing


Pork Belly
kurobuta sweets double cooked with black pudding apple and elderflower puree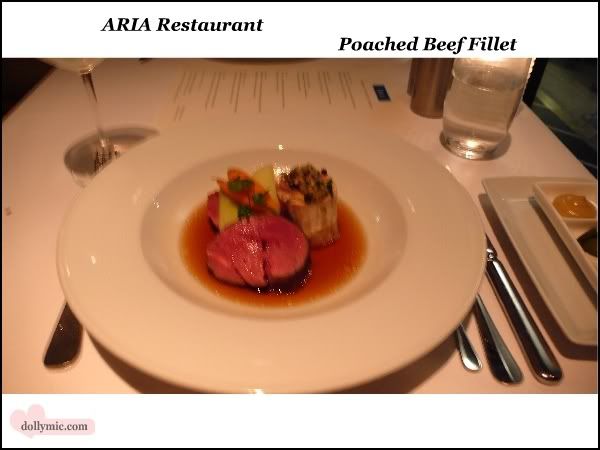 Poached Beef Fillet
with braised silverside, bone marrow, condiments and beef consomme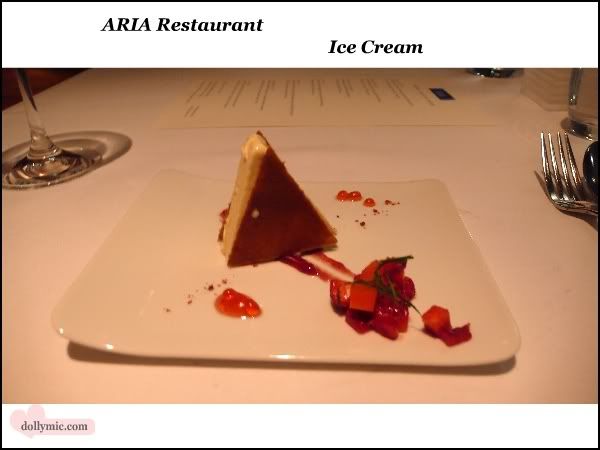 Ice Cream
vanilla ice cream with strawberry wafers and strawberry salad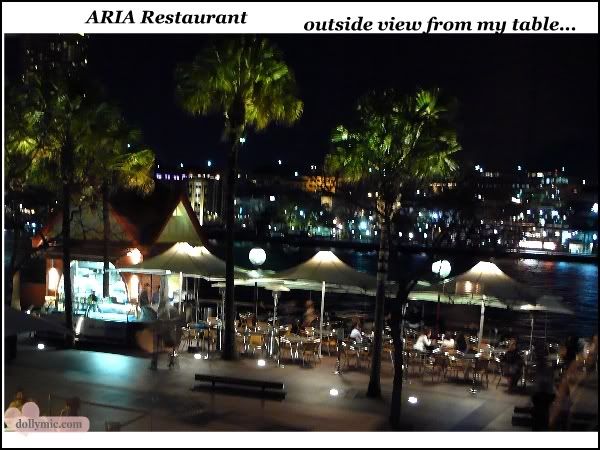 Beautiful view from the restaurant. 5 star service.

Signed Matt Moran's cookbook which can be bought from his restaurant or online.
He is well known as one of Australia's best chefs and restaurateurs
and he's the host of a Channel Nine TV show "The Chopping Block".
I didn't realise until I saw the cover of he's book.
Yes, I remember that face.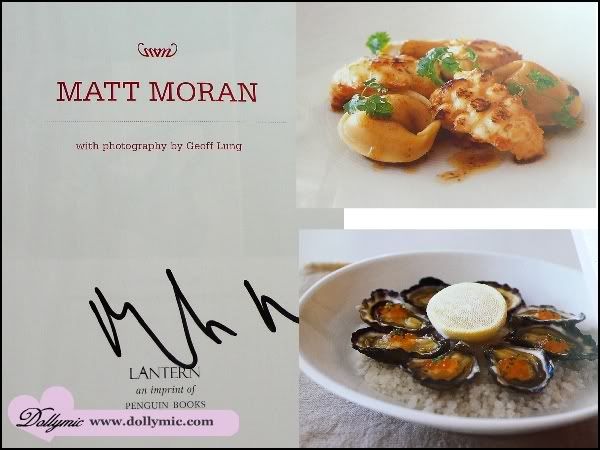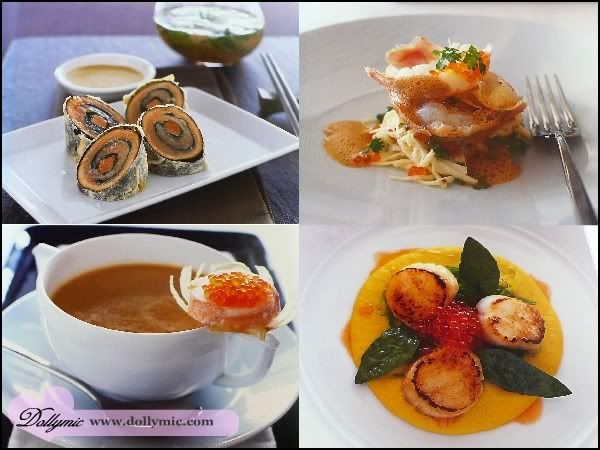 DAY TWO
On the way to Chadswood by train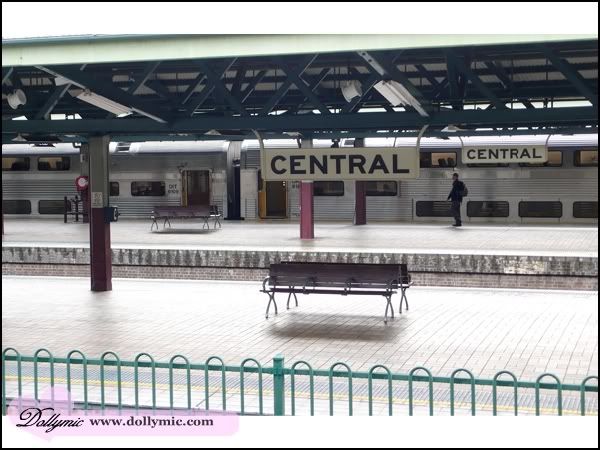 Lunch at Mr. Teppan Korean Food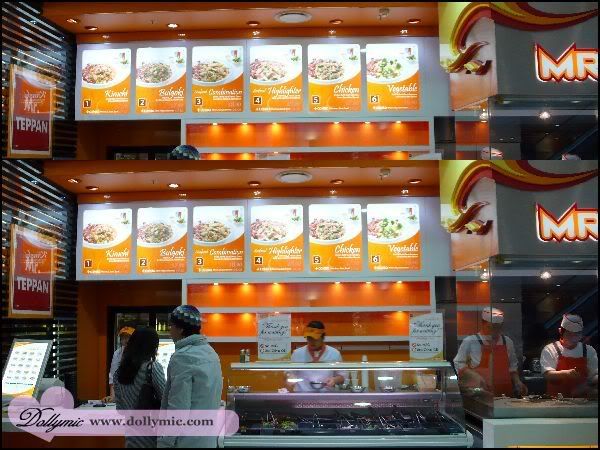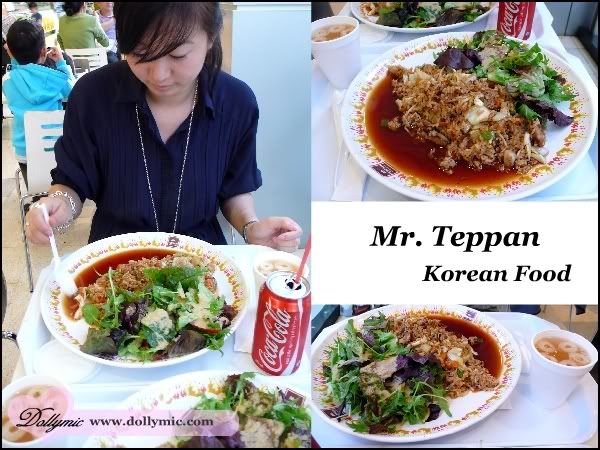 They all look the same after cooked.
I had the seafood and Darling had the chicken.
Fantasitc! I love it.
Afternoon back to city and had these ice blended red bean and strawberry deserts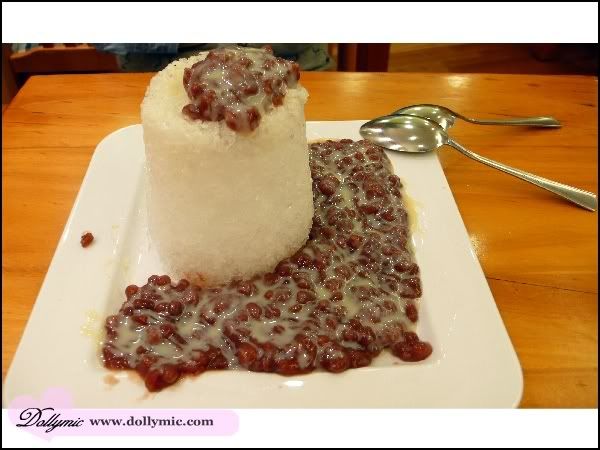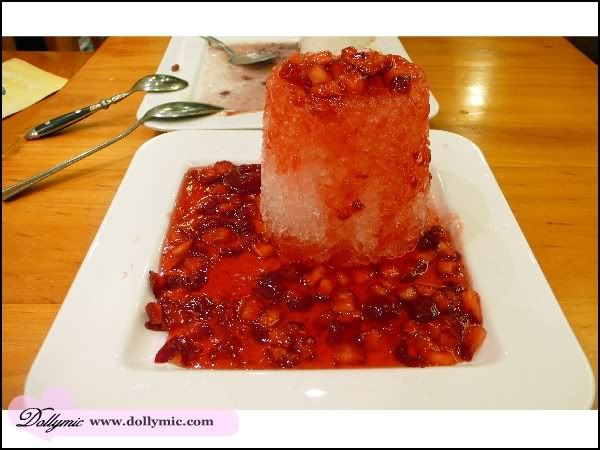 Queen Victoria Building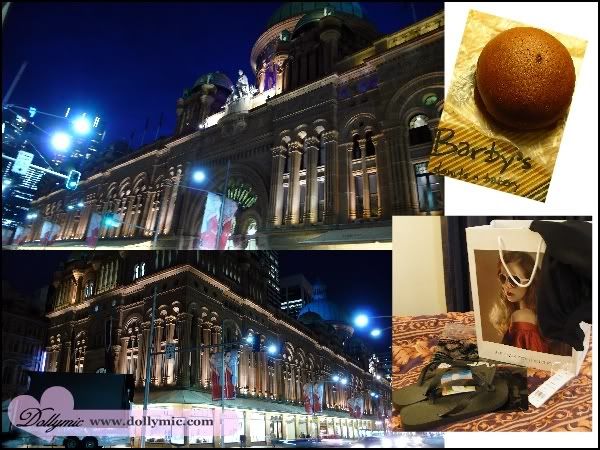 After two days of walked around on high heels,
my Chanel boots hate me and my feet need a rest.
Sunday was rainning whole day and I don't want my new boots to suffer in water.
Therefore, bought a pair of flip flop at General Pants for $19.95.
My first pair of Havainans, em...very comfy.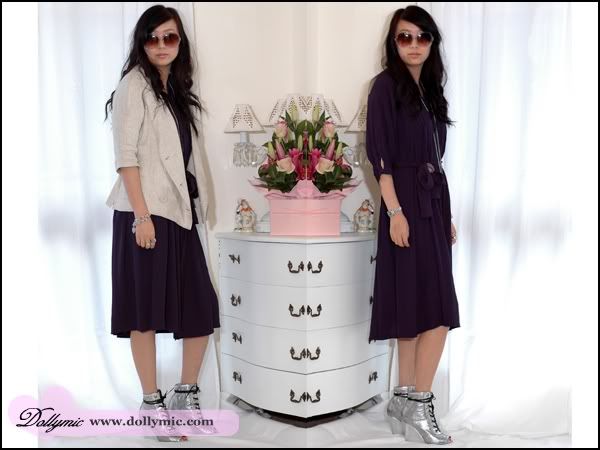 on me...
Natasha Shirt Dress Navy
Chanel silver ankle boots
Karen Walker money bag necklace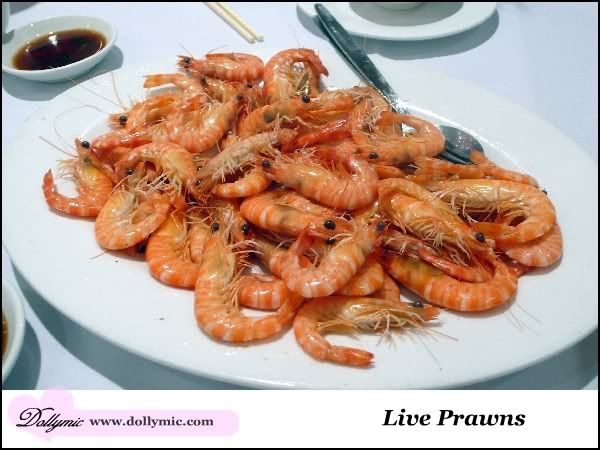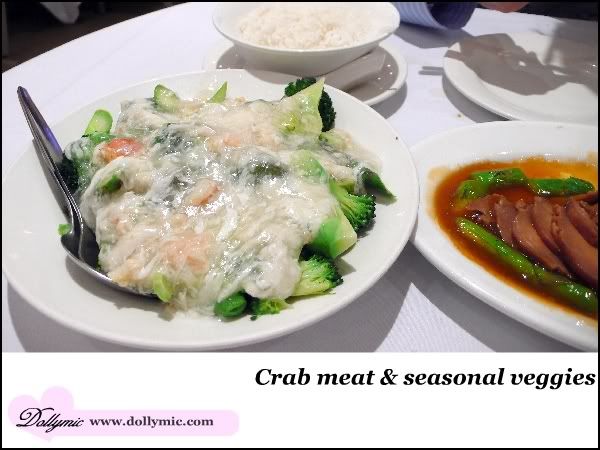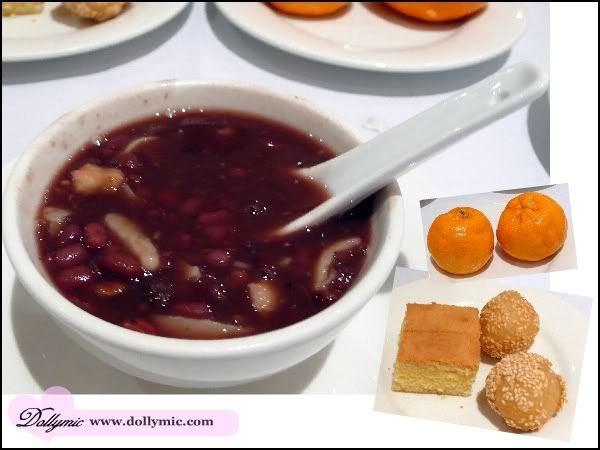 Dinner at a fine Chinese restaurant at Chinatown
金塘海鮮酒家 Golden Century Chinese Restaurant
Address:393 Sussex Street, Sydney
Phone:02 92123901


DAY THREE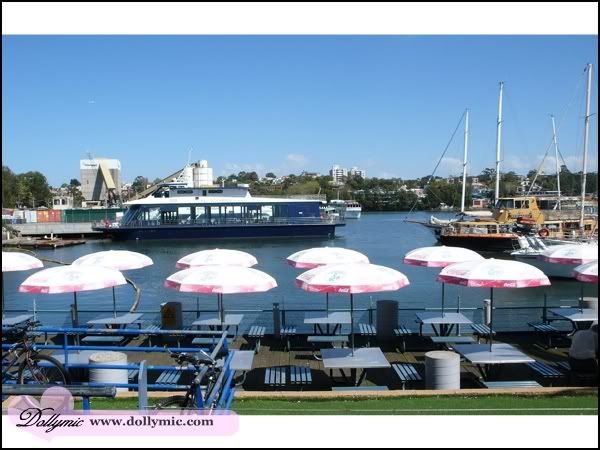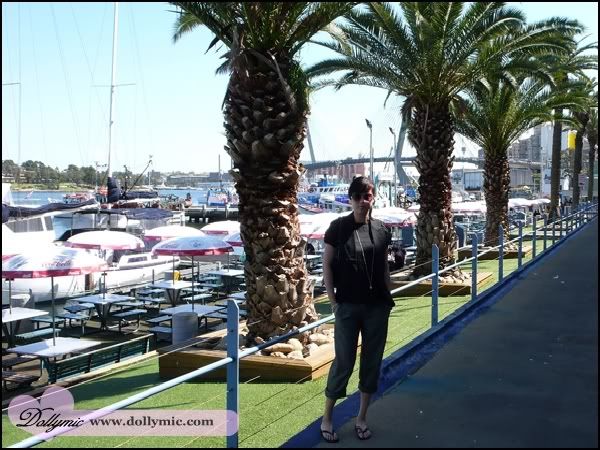 Sydney Fish Market
Open Time
Open every day except Christmas Day. Auction from 5.30am (Monday - Friday), Retail from 7.00am - 4.00pm (Daily)

Address
Blackwattle Bay, Cnr Pyrmont Bridge Road & Bank Street
Pyrmont, NSW 2009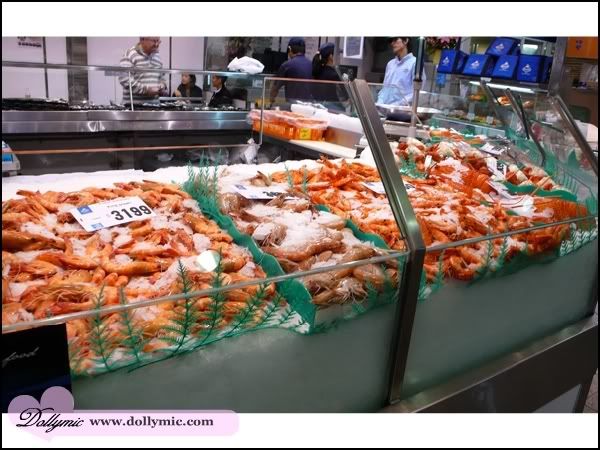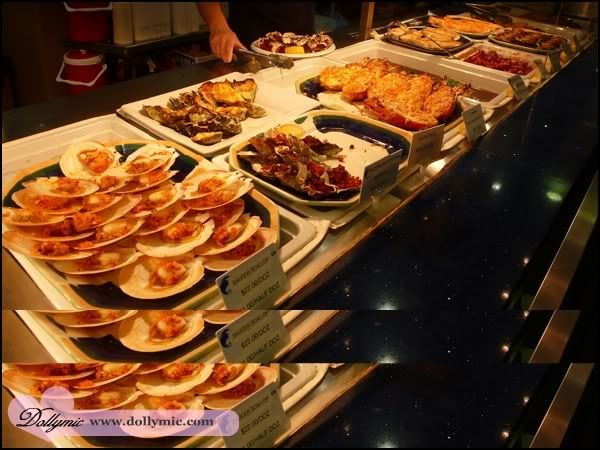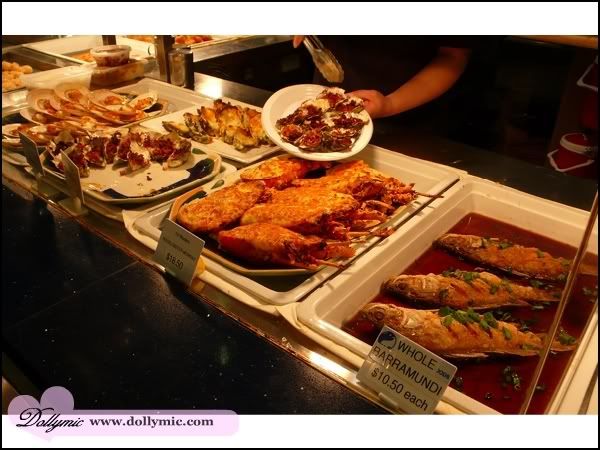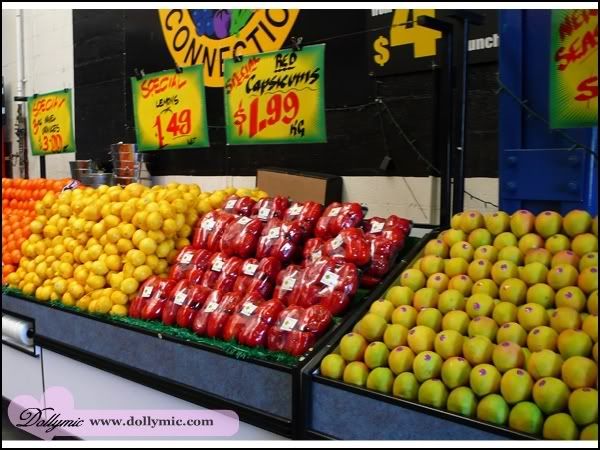 There were so many seafood to choose from, at last we had...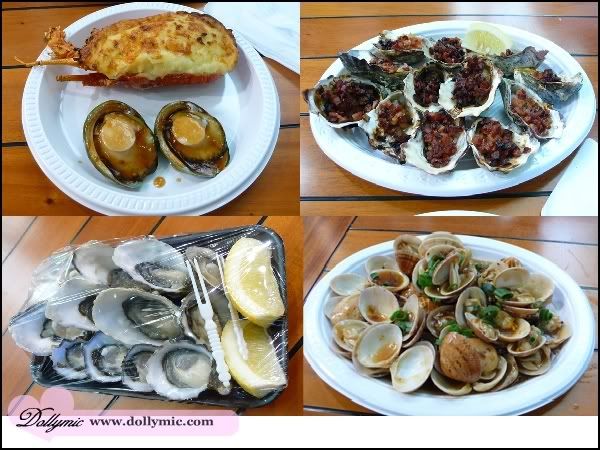 Some shopping at the end...
Lisa Ho Noir Caudry Lace Skirt
Mad Cortes Black Beaded Elasticised Top
Mad Cortes Floral Draped Dress with Belt
Veronica Maine, Witchery & FCUK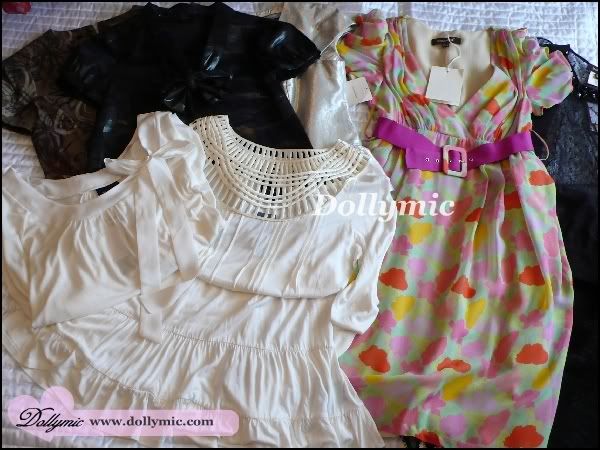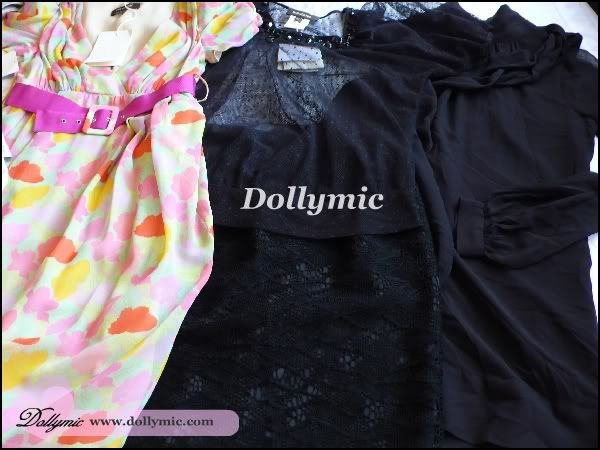 OMG! The prettiest pastel colour dress with flowers on it. So sweet!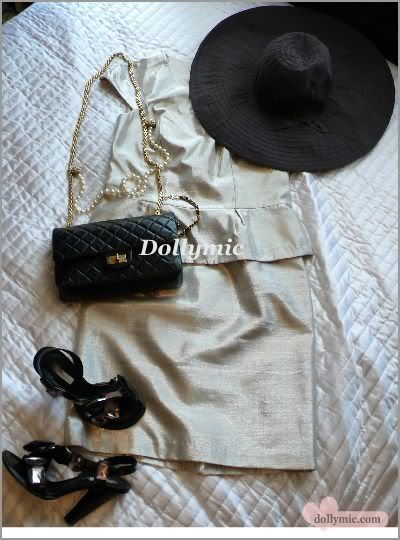 I've found a top for my metallic silver skirt from Veronica Maine
I'm going to match the suit with Wichery hat, Marc Jacobs jewelled sandals and my fave Chanel pearl chain reissue flap.

Inspired me from Christion Dior's fashion shows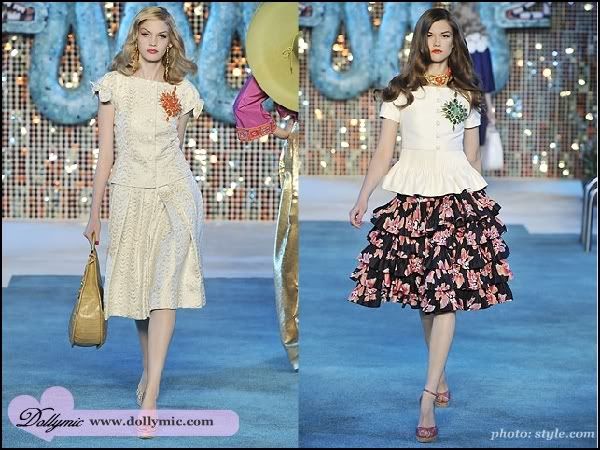 Christian Dior 2008 Couture Fall
Christian Dior 2009 Resort

The MAN of High Fashion. John Galliano!

Things for him...
Country Road shirt & shorts
Puma Black Sneakers
Puma Ferrari Men Shoes
Puma by Alexander McQueen Men Shoes


Devil tee for the little devil at home...