Marta Domachowska
Biography
Marta Domachowska (born January 16, 1986, Warsaw) is a Polish professional tennis player (right handed, two handed backhand). Began playing at age 7. Racquet – "Wilson". Career highest ranking: WTA Tour singles – 48th (June 6, 2005), WTA Tour doubles – 81st (July 25, 2005). Favourite surface – hard.
Height – 175 cm, weight – 60 kg, residence – Podkowa Lesna. Career highlights:
Strasbourg`05 WTA Tier III singles and doubles finalist
Seul`04 WTA Tier IV singles finalist
winner of ITF Olecko Cup 2002 and Stockholm Ladies (singles + doubles) 10,000$, finalist of ITF Gdynia Cup`02 (10.000 $)
winner of Bella Cup, Belfort, Zywiec Open ITF Chell. 25,000$, finalist of Hart Open Opole ITF Chell; 25,000$
semifinalist of Australian Open Junior Championships` 03
Sopot`04 WTA Tier III singles semifinalist
semifinalist of WTA Sopot`02 doubles event.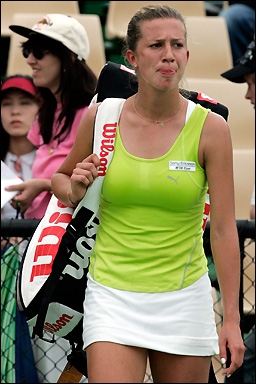 Sania Mirza vs Marta Domachowska Australian open 2009
Venus Williams vs Marta Domachowska 2008 Highlights