HIGH SUMMER 08-09
FIRST DELIVERIES INSTORE THIS
SATURDAY 4th OCTOBER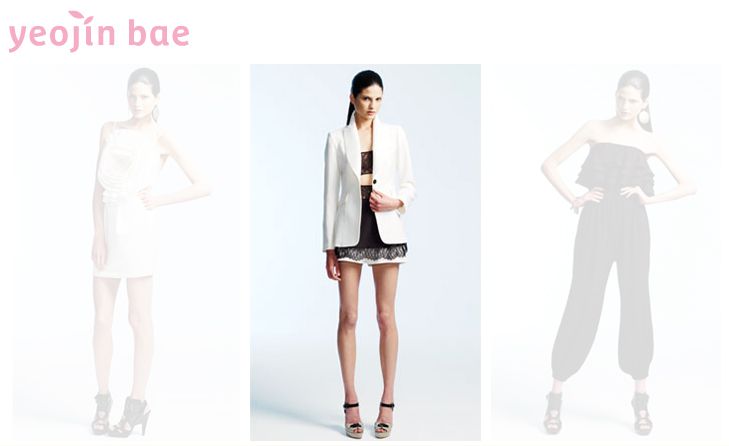 Lili Marlene 08
Camilla cocktail sateen dress – porcelain
Tailored suit jacket, Tailored shorts, Lace cut-away camisole
Daria viscose playsuit
Exploring the glamour of the 1930's and the sexy sophistication of Dietrich, Bae's Hi Summer collection strides into summer juxtaposing manstyle shapes with feminine elegance.
Taking a tailored approach to the season, boxy double breast vests in rich silk-satin stand alone as mini dresses. Polished tuxedo jackets are worn back with tailored shorts. Expertly cut dresses glide and fall over the body dropping to the floor in double weight silks. Lace is introduced in a sexy peek-a-boo cami to soften structured lines. Discreetly slashed at the waist, the cami is a seductive hint when worn underneath the tailored tuxedo.
Shoulders are highlighted with graciously falling circular cut frills, plunging necklines and sexy cutaways. A mini dress of porcelain cotton cascading frills sits alongside a backless shift of layers, twirling into a gigantic blossom. Bias cut dresses that flow close to the body balance out the voluminous frills. Simple yet elegant, silk strapless pantsuits gently blouson from the waist, gathering just above the ankle.
Colours take their hues from late summer sunsets. Sanguine shades of burnt orange, blush and powdered pink are grounded with navy, black and white. The 30's fantail print of lucid blue-green and pink feels ethereal and is contrasted with a graphic vintage clover print in cream and black.
Dietrich is famous for her distinct and original style; sharp tailoring paired with elegance and attitude. Yeojin Bae has created a veritable collection of the seasons' coveted party wear that embody the spirit of a true original.
Yeojin Bae
Showroom:
Level 1, Studio 4, 249 Chapel Street, Prahran
(between High and Greville Streets)
Opening hours:
Thursday/Friday – midday to 7.00pm.
Saturday midday – 5.00pm.
Ph: 03 9521 3099
source:
Yeojin Bae